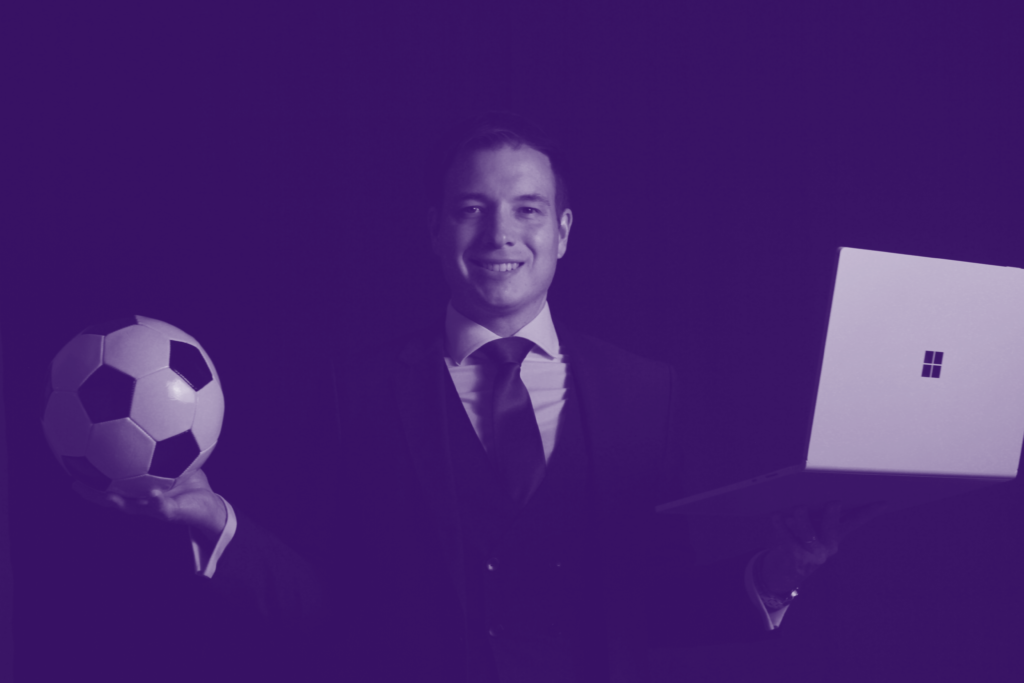 We are working with Loughborough University to provide innovative education solutions to delegates from across the world. I repeat – I am working with Loughborough University! How did that happen? Where did it all start?
Early childhood
Growing up in Oldham, dreaming of becoming a professional athlete and studying in a state school, I can honestly say I hadn't heard of Loughborough University. I hadn't thought about university until I was ready to start applying if I am being honest. I was always focussed on education – one step at a time – taking advice from those around me – from family, teachers, friends about how to get the best out of my education. Sport played a part in my life from an early age and of course, being English, the predominate sport was football.
As I progressed through school and college, education became more important. Sport became a reward, a hobby, an escape, a social activity and an informal way of learning. It continued to play a significant part in my life for so many reasons. I loved team sports in particular. The sense of community or being part of something with others aiming towards a common goal was so rewarding.
University – decisions, decisions
I was the first in my family to reach university but when it came to decide where and what to study, I decided to aim high.
What was the thought process and how did I make it happen? At college I studied A-Level Maths, Biology and PE – a subject that many said was not a "proper subject" at the time. For me, sport had become a way of life at the centre of everything I was doing. By this point I spent 6 nights per week at the basketball centre at which I played in Manchester. I took every opportunity to play football, tennis, cricket, swim or take part in athletics representing my school or college wherever possible.
When investigating life after college I found that my "good grades" allowed me to explore opportunities – at a careers fair I started to look for the right university. It didn't take me long to find Loughborough. The response to the question "what are you interested in?" was quite simple – sport! So I headed off to the Loughborough stand to find the most impressive sports university in the world. Like something out of a movie – a dream for anyone wanting to be involved in sport.
After my first visit I fell in love with the place – who could ask for anything more? Every sports facility you could ever dream of in one place! I was sold – this is where I would spend three years studying – indulging in a world of sport. Would I get in? There was no guarantee – this would depend on my final grades. On results day the dream came true!
What to study?
My thought process was simple – it had involve sport! Loughborough had multiple sport-related courses on offer. I stumbled across a course that I thought would be perfect for me. Sports Science with Maths – an odd combination? Not for me. Combining my passion for sport with a topic I was good at and that would get me a job. Hedging my bets for life after university, knowing that becoming a professional athlete was not likely. Also believing a maths degree would help me to get a job.
Life at Loughborough and beyond
I had a feeling I was in the right place to make a success of myself – the best facilities, the best lecturers, a sporty and competitive environment and a sense of community built upon decades of sporting success. Studying became a priority at university – making sure I made the most of the opportunity but the year before graduating I came to realise that jobs in sport were hard to get so I had to resort to my "plan B". I became a chartered accountant and set my sights on an alternative career in sport upon qualification.
I eventually became the financial controller of City Football Group and upon leaving City, I had a similar dilemma to the one I had when choosing a university, when building a new online finance education business. Having spoken to a variety of friends, colleagues and family about my idea – all was positive. One friend in particular had built a career in e-learning and gave me some invaluable advice. To really make this happen – it should be built in conjunction with a higher education institution. So once again, I aimed high on the sporting educational institution list – Loughborough was the top choice. The only choice.
The future
I cannot describe how proud I am to have been able to announce the collaboration with Loughborough for our flagship course – the Professional Certificate in Football Finance. We have been working on this collaboration for some time. The course has been developed to combine the best in sporting education with practical knowledge from the football industry. It is also delivered in a way that represents the evolution we have seen in education over the previous decade and accelerated by the pandemic. This combination is something that has never been seen in education.
We recognise that this announcement is exciting but represents a step in our journey and the hard work starts now. At the time of releasing this journal, the course is not yet available. We are working hard to finalise the learning platform. This is the start of an exciting new chapter for Football Finance Professionals.
If you are excited by this topic as we are, please let us know by emailing [email protected]. If the course proves to be the success that we hope it will be, our plan is to create more. We will focus on a variety of specific topics that affect the football/sports industry.
If you are at a cross roads with education my advice would be simple – keep your studies broad for as long as possible but when making significant decisions on what or where to study, think about your passion and your skills. If you can combine the two you won't go far wrong.
Sign up to our mailing list to be the first to know about the course as it is released.
Read more of our journal entries here.